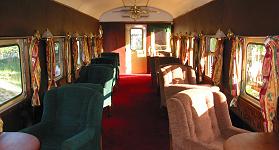 Safari Express by Foxes African Safaris
Train service has been temporarily suspended.

The Safari Express is an ideal way to travel; not only is it comfortable and relaxing (with a bar and meal served on board), but you actually see a great deal of the stunningly beautiful Tanzanian countryside that would otherwise be missed. The railway track runs along the northern boundary of the Selous Game Reserve before reaching the Kilombero Valley, so a couple of hours game viewing are included on the trip!!